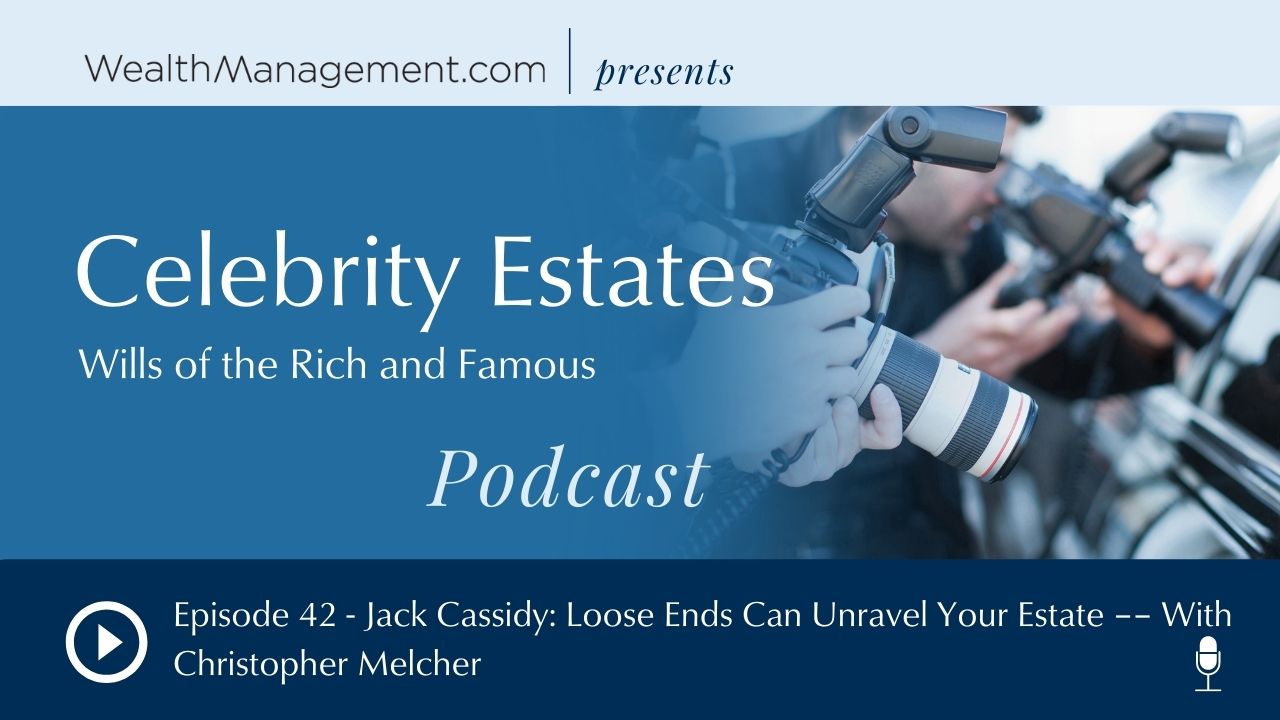 Ep 42 – Jack Cassidy: Loose Ends Can Unravel Your Estate –– With Christopher Melcher
Ep 42 – Jack Cassidy: Loose Ends Can Unravel Your Estate –– With Christopher Melcher
Podcast: Play in new window | Download | Embed
Subscribe: Google Podcasts | Spotify | iHeartRadio | Stitcher | TuneIn | RSS | More
In this episode, David Lenok, senior editor at WealthManagement.com, is joined by Christopher Melcher, partner at Walzer Melcher LLP where they focus on complex family law litigation and premarital agreements of high net worth individuals.
Today's celebrity example is Jack Cassidy; an American actor and singer known for his works in theatre, tv and film.   
Having married and divorced twice and fathering children in both marriages, most notable being David and Shaun Cassidy, Jack's estate plan was for the most part very well executed.  Except for the small "loose end" by way of a life insurance policy that Jack nor his team followed up on when completing his divorce paperwork.  An 8 year legal battle between ex-spouse #2 and the estate then ensued over a $50,000 life insurance policy.
Now, Christopher and David discuss why you must ensure that you dot your I's, cross your T's, just finish the work.
In this episode, you will learn:
What are some lessons learned for advisors, from Jack Cassidy's unfortunate circumstances

Are premarital agreements good or bad for a relationship

What are some other typical "loose ends" that often get forgotten when finalizing an estate plan

And more!
Tune in to help your clients understand, you cannot win the race if you do not cross the finish line!
Resources: WealthManagement.com | Walzer Melcher LLP