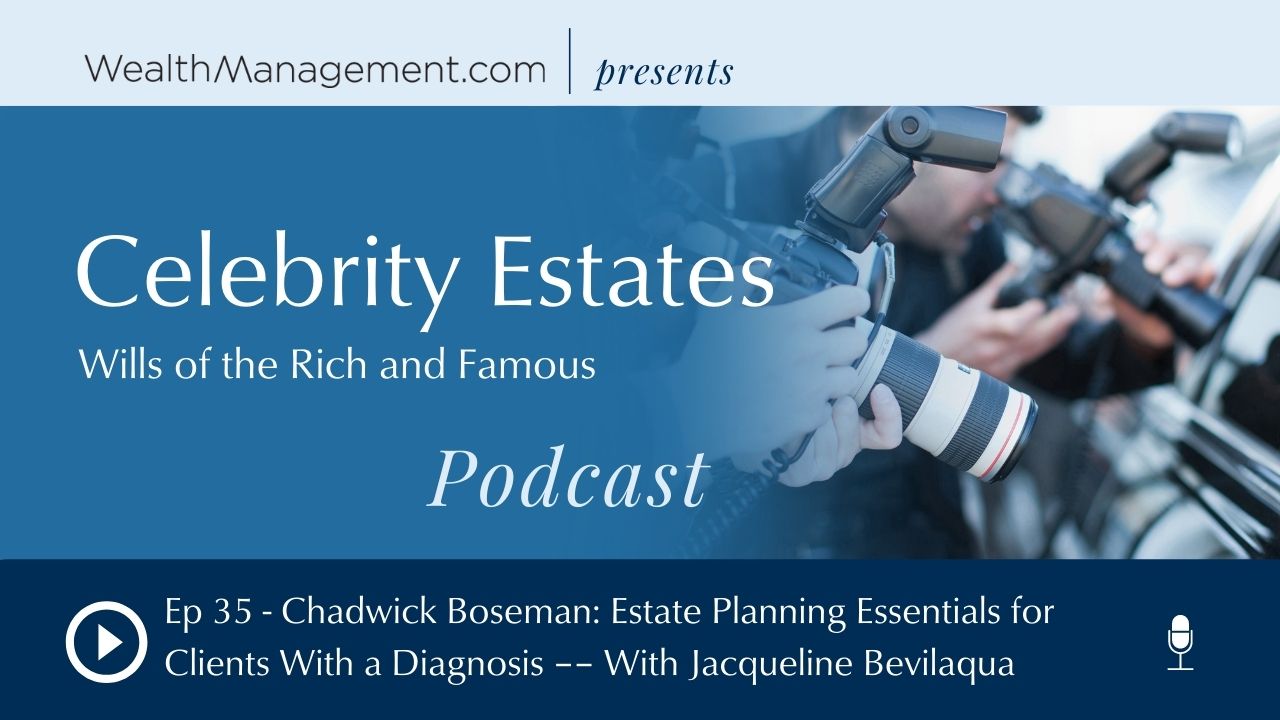 Ep 35 – Chadwick Boseman: Estate Planning Essentials for Clients With a Diagnosis –– With Jacqueline Bevilaqua
Ep 35 – Chadwick Boseman: Estate Planning Essentials for Clients With a Diagnosis –– With Jacqueline Bevilaqua
Podcast: Play in new window | Download | Embed
Subscribe: Google Podcasts | Spotify | iHeartRadio | Stitcher | TuneIn | RSS | More
In this episode, David Lenok, senior editor at WealthManagement.com, is joined again by Jacqueline Bevilaqua, a tax, trust and estates associate at Katzy Korins.  
The celebrity example in this episode is actor Chadwick Boseman, who was best known for portraying heroes, specifically Black heroes, in films, such as "42," "Get On Up," "Marshall," and, of course, the blockbuster superhero film "Black Panther."
Drawing inspiration from Chadwick's story, David and Jacqueline talk about estate planning essentials for clients who have a diagnosis. They also discuss the importance of having all estate planning documents in order and ensuring that key people are aware of them. 
In this episode, you will learn:
Estate planning considerations for clients who've been diagnosed with an illness

The purpose of three documents that are particularly relevant to people with a diagnosis:

health care proxy, power of attorney, and living will

Reasons why clients might get married towards the end of their life, as it relates to their estate plan

Why key action people must be aware of estate planning documents and their location

The benefits of using the oft-misunderstood special needs trust 

Why some people keep their estate plans a secret

And more!
Tune in now to learn estate-planning must-haves for clients with a diagnosis. 
Resources:  WealthManagement.com | Katzy Korins LLP